Franchising
If you are ready to take the next step toward opening a Monkey Bizness franchise, please click below to complete our Information Request form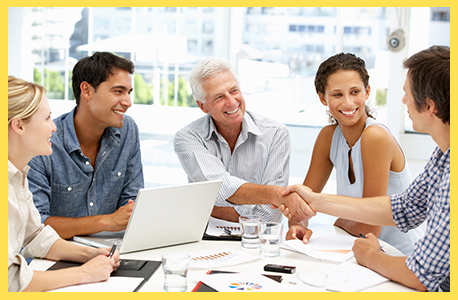 Monkey Bizness is now offering the opportunity of a lifetime. We are franchising nationwide and looking for the right people who want to own a fun and wholesome business in the children's amusement market.
A successful franchise doesn't need to have a big name, after all, what does a big name mean to you if you don't have the freshest concept, best support and the ability to keep your facility up to date and competitive. Monkey Bizness started with the idea that in order to grow and remain competitive, we needed facilities that could constantly evolve, grow, and keep customers coming back year after year. We developed our slogan "where kids monkey around" because we will always be a fun, exciting place for kids and parents to play, regardless of the attractions in our play rooms. We have developed relationships with equipment manufacturers in various industries to design themost physically exciting and visually stimulating equipment for our facilities, all the while keeping an eye out for what's next on the horizon to keep our concept fresh. Ultimately, that's the name of the game in children's amusement. And that is what we offer as a franchisor, a progressive business model that has proven itself against the industry's top competitors. So, you can choose a bigger name, but at the end of the day, wouldn't you rather choose a business model that brings kids through the door, not accolades from the latest business publication? Franchises are now available nationwide. For more information please call (303) 790-8885 or click on the link above to complete the Information Request Form.
More Than Just A Great Model
Monkey Bizness is more than just a great business model. When it comes to buying a franchise, you want support. From finding the right location, building out your facility, onsite grand opening assistance and ongoing support, you need someone who has your success in mind. Monkey Bizness is committed to the success of our franchises. Below is a list of the support that you can expect from us:
Real Estate
The cornerstone to any successful retail franchise is finding the right location. However, commercial real estate is not an area where most people have much expertise. That is why our real estate team will work with you every step of the way to find the best location possible in your geographic territory. From extensive demographic studies, to competitor analysis, site selection matrix and lease negotiations (including negotiating tenant finish allowances), we won't stop until we've found the right location for you.

---
"When a franchisor is actively involved in helping identify new franchise locations, it gives the store a much greater chance of long-term survival, higher sales and even shorter store opening times" –Franchise Times, September 2005
---
Pre Opening
Your Monkey Bizness support team will work with you from the beginning through your store opening. We'll assist you in blueprint evaluation, design and layout to make sure your getting maximum use out of every square foot. Once construction starts, we'll help you monitor the progress and make sure everything is being done correctly. From office equipment, to play room equipment and décor package, we'll assist you every step of the way to make sure your facility is ready to go for your store opening. It's all laid out for you including a detailed Operations Manual that provides guidelines for running every aspect of your Monkey Bizness franchise.
Training
Prior to opening you will attend training at corporate headquarters and a designated Monkey Bizness facility to learn every aspect of running your new Monkey Bizness franchise. From day-to-day operations, managing your staff, marketing your business and maintaining your facility, we'll teach you everything you need to know to successfully operate your business.
Grand Opening
Everything leads up to your store opening and we'll leave no stone unturned when it comes to getting people in the door. In addition, you will have a dedicated Monkey Bizness representative at your facility for the week leading up to and including your store opening to make sure everything goes smoothly.
Ongoing Support
Our support doesn't end with your Grand Opening. You are now part of the Monkey Bizness family, and, as such, you will be treated like family. We will share stories of success, be available to answer questions and discuss your ideas on how to keep your Monkey Bizness franchise on top. Your success is our success and nothing is more important!
Monkey Business Investment
Your initial investment to start a Monkey Bizness franchise will be between $390,500 and $997,500* which includes your $45,000 franchise fee, construction and equipment costs. Applicants will need a net worth of approximately $200,000 to $300,000 to qualify for a franchise. Qualified applicants will receive our UFDD (Uniform Franchise Disclosure Document), which provides greater details on a Monkey Bizness franchise.
If you are ready to take the next step toward opening a Monkey Bizness franchise, please click below to complete our
On-line Franchise Questionnaire
Disclaimer
None of the communications made through this web page should be construed as an offer to sell any Monkey Bizness franchises in, nor is any such communication directed to, residents of any jurisdiction requiring registration of the franchise before it is offered and sold in that jurisdiction. No Monkey Bizness franchises will be sold to any resident of any such jurisdiction until the offering has been exempted from the requirements of, or duly registered in and declared effective by, such jurisdiction and the required Uniform Franchise Disclosure Document (if any) has been delivered to the prospective franchisee before the sale in compliance with applicable law. If you should have any questions concerning the registration status of Monkey Bizness franchises in your jurisdiction, please contact us at (303) 790-8885.
MONKEY BIZNESS IS NOT CURRENTLY REGISTERED AND MAY NOT SELL FRANCHISES IN THE FOLLOWING STATES:
Hawaii, Nebraska, North Dakota, South Dakota, Rhode Island, Virginia